Twitter users criticise Indian PM for accepting viral #fitnesschallenge | The Cube
Comments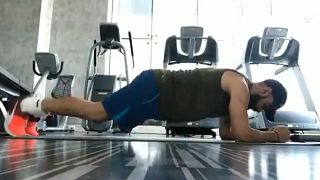 -
Indian Prime Minister Narendra Modi has received backlash on social media after agreeing on Twitter to take part in a fitness challenge that has gone viral across India this week.
The challenge, which started Tuesday after Indian politician Rajyavardhan Rathore tweeted a video of himself doing press-ups in his office, encourages people to use the hashtag #fitnesschallenge and post pictures and videos of their favourite ways to keep active.
Rathore's video has since been retweeted more than 12,000 times, and the hashtag #fitnesschallenge has been mentioned on Twitter more than 140,000 times as other Indian politicians, celebrities and Twitter users pitch in with videos of their fitness routines.
Modi's response promising to post his #fitnesschallenge "very soon" was prompted by a nomination from Indian cricketer Virat Kohli, who posted his own video on Wednesday.
However, several Twitter users weren't impressed by Modi's promise to participate, suggesting he focus his time on other matters. Two journalists, for example, said the Indian prime minister should instead address soaring fuel prices in the country (fuel prices rose for a 12th consecutive day on Friday).
Other users, such as @shenbagaraj, asked Modi to "spare a sec" to address this week's deadly protests over the environmental implications of a large copper smelter in India's Tamil Nadu state. According to reports, at least 13 people have been killed in the protests this week.
Other critical tweets:
While he had not posted his #fitnesschallenge by Friday, the Indian prime minister ended the week at an event at Shantiniketan's Visva-Bharati University, of which is he is chancellor, where he apologized to students for the lack of drinking water facilities.
At the heart of Euronews' newsroom, The Cube is a newsdesk run by a team of journalists specialising in social discovery and verification. They comb through social media to find, verify, and debunk stories, in-real time, for our audiences on air and online.