This man has married hundreds of couples — but has never met any of them
Comments
By NBC Left Field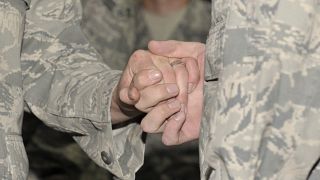 Copyright

U.S. Air Force photo/Tech. Sgt April Wickes

-
Tom Kennedy has officiated hundreds of weddings but he's never once met any of the happy couples.
That's because Kennedy, from Montana in the United States, performs weddings by double proxy for military personnel.
What it means is that people stand in for the bride and groom who cannot attend because one of them is stationed too far or is being deployed shortly.
"Montana's got this great law that's been here since the 1860s and it allows for us to marry armed service personnel by proxy. They can be anywhere in the world and marry anyone in the world," Kennedy said.
US military personnel are spread across 800 bases, located in over 70 countries worldwide. Some of the people Kennedy have married were stationed in countries as far-flung as Germany, New Zealand, South Korea, Italy, the United Kingdom or in South America.
"You fall in love with someone, you're about to go away for two years, well, if you marry them now, they can perhaps go with you," Kennedy said.
"Without us, they can't do it. You can't get married that easily in a foreign country if you're not a citizen there."
—This story was produced by NBC Left Field, which creates short, creative docs and features, all designed for social media and set-top boxes.
Video journalists: Deborah Basckin and Ali Withers