The German Chancellor, Angela Merkel received the 'Lamp of Peace'
Comments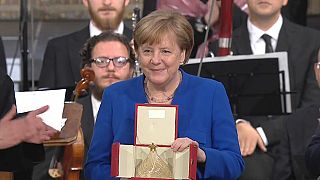 The German Chancellor, Angela Merkel received the 'Lamp of Peace' in Assisi in Italy.
It's a Catholic award for seeking peaceful coexistence of people.
The Franciscan light is a replica of a local glass oil lamp which glows at the monastic grave of Saint Francis of Assisi, who inspired environmental ethics.
Light and the olive oil inside are both symbols for peace.
Others who have received this award are Pope John Paul II, the Dalai Lama, and Saint Teresa of Calcutta.