UK's Electoral Commission fines Brexit campaign group
Comments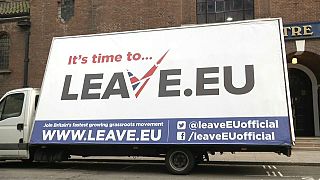 The UK's Electoral Commission has fined a group that campaigned for Brexit 80,000 euros for breaking rules over the 2016 referendum.
It found that Leave.EU spent at least ten percent more than it was allowed to whilst campaigning and it has now referred the case to the police.
The group also incorrectly reported how much it did spend in the run up to the referendum.
Leave.eu was backed by UKIP, but was sidelined by the governing Conservative party and some Labour party MPs who backed another group to lead the Brexit campaign.
As part of its investigations, the Commission also examined whether there were any links between Leave.EU and Cambridge Analytica, a controversial political consultancy at the centre of a Facebook data scandal.
Facebook has said the personal information of about 87 million users might have been improperly shared with political consultancy Cambridge Analytica, which worked on Donald Trump's 2016 presidential election campaign.
Though questions were also raised about Cambridge Analytica's role in the Brexit campaign, the consultancy said it pitched to Leave.EU but never undertook any paid work.
Leave.EU also said that it decided not to work with Cambridge Analytica after Vote Leave was chosen as the official "leave" campaign rather than Leave.EU.
Leave.eu said it would appeal the fine.
"We view the Electoral Commission announcement as a politically motivated attack on Brexit and the 17.4 million people who defied the establishment to vote for an independent Britain," its founder and main financial backer Aaron Banks said in a statement.