Boston Celtics persevere to victory over Philadelphia 76ers
Comments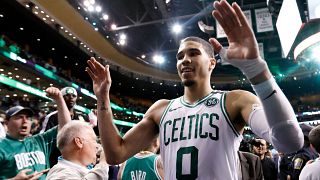 Injured Boston Celtics star Kyrie Irving had to sit it out and watch the other players take his team through to the NBA Eastern Conference finals with a victory over the Philidelphia 76ers on Wednesday.
The Celtics took an early lead but never achieved anything like a safe margin.
Jayson Taytum put in the best performance scoring 25 points while Jaylen Brown scored 24 and Terry Rozier 17.
The 76ers could have taken lead back several times but in the end, it was the Celtic's Jayson Tatum who put Boston 111-109 ahead with just 22 seconds left before three free throws earned them a 114-112 victory.
They now face LeBron James' Cleveland Cavaliers on Sunday.