Watch: Putin takes a very long, lonely walk to his fourth term
Comments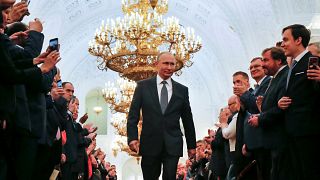 Russian President Vladimir Putin took a long walk to another six years in charge.
The journey to his inauguration saw him walk through his offices, lined with paintings and chandeliers.
He then showcased a new limousine, which local media hailed as Russian-made, as he was driven to the Kremlin hall for further ceremonials.
The Russian president has previously been known to favour automobiles by German company Mercedes-Benz, but has been leading calls for the country to reduce its dependence on imported goods and technology, particularly amid Western sanctions.
Putin finally paced the corridors of the Kremlin before arriving at the swearing-in ceremony.
The original footage of his journey lasted around six minutes, so we've sped it up for you.