Thousands protest at Hungary government
Comments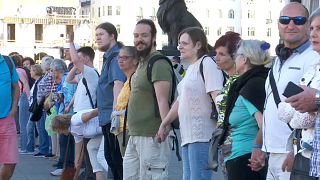 An estimated 5,000 people were involved in demonstrations in Hungary on Monday evening ahead of the first session of parliament on Tuesday.
About 100 protestors formed a chain front of the Parliament building to oppose the rule of Orbán Viktor and his party Fidesz which won a majority in recent elections.
Demonstrators told Euronews why they were there:
"Those in power have to know that not everybody agrees with them," said one man.
"I would not like it if there were civil war in this country but it is evident the country is torn in two parts," another man added.
The main concern is about changes in the election system which critics say helped Fidesz to a two thirds majority in parliament with fewer than half of the votes.
Police remained out in force in the capital and particularly around the parliament building.