Abbas anti-semitism controversy
Comments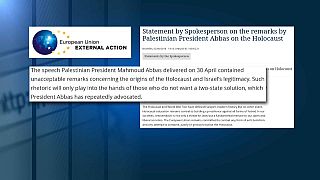 International condemnation is growing over remarks made by Palestinian leader Mahmoud Abbas about the Holocaust at a meeting in the West Bank.
Abbas has been accused of being anti-semitic after suggesting the murder of European Jews was the result of their financial activities.
In strikingly blunt language from Brussels, the EU said his speech contained unacceptable remarks which "will only play into the hands of those who do not want a two-state solution."
Prime Minister Benjamin Netanyahu immediately called Abbas a "Holocaust denier" with the Israeli foreign office then echoing his criticism.
"What we have heard from Mr. Abbas is a series of anti-Semitic accusations of an ugly nature," said Israeli foreign ministry spokesman, Emmanuel Nachshon.  "Mr. Abbas accuses actually the Jewish people of being responsible for its own tragedy."