Abbas asks EU to recognise Palestinian statehood
Comments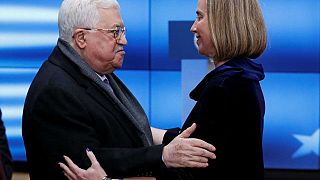 Palestinian leader Mahmoud Abbas is asking the European Union to formally recognise the state of Palestine.
Abbas made the request during a press briefing with the EU's top diplomat, Federica Mogherini.
"We pay all due respect to the positions of European Union,we trully consider the EU as a true partner and friend," Abbas said. "Therefore, we call on its member states to swiftly recognise the state of Palestine, and we confirm that there is no contradiction between recognition and a resumption of negotiations".
Abbas wants Brussels to recognise the state of Palestine along 1967 borders, with East Jerusalem as its capital.
Mogherini was non-committal, reiterating the EU's long-standing position.
"We continue to promote the two-state solution, we oppose the settlement activities that we consider illegal under the international law," she said, referring to Israeli settlements in the West Bank.
The Palestinian delegation's three day visit to Brussels comes as Abbas says he no longer trusts America to play a role in Middle East peace talks.
Abbas last week denouced US recognition of Jerusalem as Israel's capital as "the slap of the century".
He also caused alarm by accusing Israel of "killing" the Oslo accords that underpin the stalled peace process.
During his visit, Abbas is also scheduled to meet with Belgian Prime Minister Charles Michel.