India's Modi on historic West Bank visit
Comments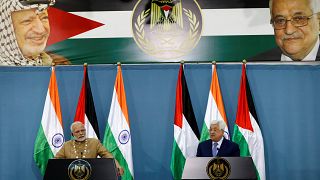 -
When Narendra Modi touched down in Ramallah, he became the first Indian prime minister to embark on a visit to the occupied West Bank. It was hailed by both sides as an 'historic visit'.
Modi held talks with Palestinian Authority president Mahmood Abbas. Ahead of the visit Abbas said he would discuss India's role in the Middle East peace process and the creation of a multilateral forum to strike a final deal with Isarel.
During his visit Modi stressed the need for diplomacy to bring peace and stability to the Palestinian territories, saying a permanent solution is only possible with dialogue.
The trip, which comes weeks after Modi hosted the Israeli Prime Minister, is seen as an effort by India to balance its strengthening ties with Tel Aviv.