Missiles strike Syrian military bases
Comments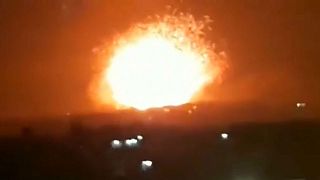 Missile strikes on several Syrian government military bases in northern Syria on Sunday night are reported to have killed a number of pro-government fighters, including Iranians.
The Syrian military said facilities in Hama and Aleppo provinces were struck, causing large explosions.
​With no one claiming responsibility for the strikes, there is speculation in Israel that its military was responsible.
The Syrian army has blamed only "aggression" by its enemies.
Iran's semi-official Tasnim news agency said no Iranian base had been hit or Iranians killed.
The missile strikes came as President Bashar al-Assad met a senior Iranian member of parliament on Monday.
Alaeddin Boroujerdi, who heads Iran's parliamentary committee on national security and foreign policy, said Iran would keep its military advisers in Syria until the war ended.