Barcelona fans celebrate their team's 25th La Liga title
Comments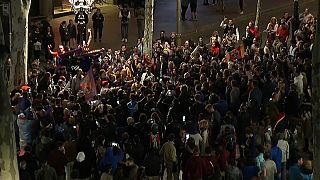 Barcelona fans have gathered to celebrate their team's 25th La Liga title after winning 4-2 at Deportivo La Coruna.
Scores of them crowded onto Las Ramblas, in the heart of the Spansh- Catalan city, to celebrate as is customary around the Canaletas fountain.
The reaction is jubilant.
"This league tastes so good, every time Barca wins a title is very good and we must celebrate it in a big way," said 31-year-old physiotherapist Marc Batalla.
"This is a title with so many records broken. And we are very happy. We deserve this," said fan Antonia Romera.
"Incredible, a fantastic double, we missed the Champions League but we can't win everything all the time," said 31-year-old administrator Santiago Castaneda.
Barcelona's next goal is to try to finish the league unbeaten, something which has never happened in the competition's current format.