Protest continue in Armenia as acting PM rejects talks
Comments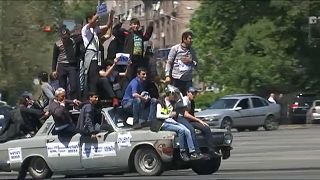 As anti-government protests continue in Armenia the acting prime minister, Karen Karapetyan, has rejected a proposal by opposition leader Nikol Pashinyan to hold talks.
Some Armenian soldiers have now joined the demonstrations despite warnings they would be harshly punished.
There have been almost two weeks of protests in the country against the ruling elite which led to the resignation of Serzh Sargsyan who had been appointed as prime minister after being president for 10 years.
Demonstrators say his resignation is not enough and argue that Karapetyan is an ally of Sargsyan.
Pashinyan opposes plans for a snap election fearing it would not be free, transparent and democratic.