Concessions by Armenia's ruling party fail to appease protesters
Comments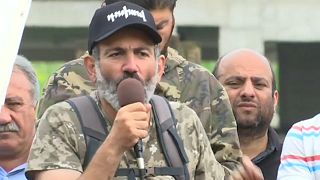 Protests have continued in Armenia despite the country's ruling party announcing that it would not put forward a candidate for prime minister.
Opposition leader Nikol Pashinyan, has insisted that parliament should elect him as prime minister next week, after which he would hold parliamentary elections under new laws.
Most of the demonstrations have remained peaceful but have impacted on Armenia's stability after protesters became angry over corruption allegations surrounding the ruling Republican Party.
The resignation of Serzh Sargsyan, who had been appointed as prime minister after being president for 10 years, failed to appease protesters.
Pashinyan has since called for further non-violent demonstrations, saying that the victory of the people must be recognised. He called on supporters to step up their protests in the capital, Yerevan, on May 1st when the new prime minister is due to be chosen.
Full parliamentary elections are not due to take place until 2022 but if parliament is unable to agree to a new prime minister then an early poll must be held.
Although Pashinyan does not have enough support in parliament to be elected prime minister he insisted that he has the support of the Armenian people.