Madame Tussauds in New York unveils new Melania Trump waxwork
Comments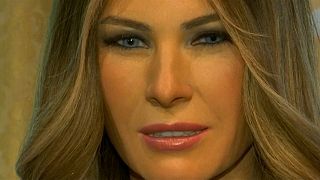 America's First Lady Melania has joined Donald Trump at Tussauds in New York.
The Trumps are positioned behind a wooden presidential desk in a section devoted to world and religious leaders
Former White House press secretary Sean Spicer, who was promoting his book "The Briefing," praised Melania Trump effusively at the unveiling.
"She's very supportive, she's very well-read and always interested in what's happening and to the extent possible willing to share her thoughts and ideas as far as what's going on."
A team of 20 artists worked with Trump's team to capture her features over 3-4 months and studying over 250 angles of the former model.