Greeks protest austerity measures and public infrastructure sales
Comments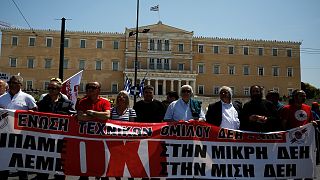 -
Copyright

REUTERS/Alkis Konstantinidis
Thousands of protesters hit the streets of Athens on Wednesday to denounce austerity measures and the sale of Greece's Public Power Corporation's coal plants.
The greek government led by Alexis Tsipras promised lenders that it will continue its austerity measures and sale of infrastructure beyond the deadline set by its bailout terms.
The employees of DEI (Public Power Corporation) came up to the policemen guarding the parliament building and dumped sacks of coal as a symbolic gesture at the end of their demosntration.
Greece has had to sell a number of state assets since 2010 when it started relying on emergency loans to stay afloat. Critics say the sales are bad for both the country's long term finances and the companies employees.
The government however says the cuts and sales are essential to help secure lower interest loans.