Clashes erupt as protesters try to topple Truman statue in Athens
Comments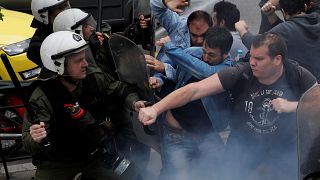 Copyright

REUTERS/Alkis Konstantinidis
Clashes between riot police and anti-war protesters broke out on Monday, two days after the US, UK and France launched airstrikes on Syria.
The protesters, part of the Greek Communist Party, had attempted to bring down a 3.5-metre statue of former US President Harry Truman by using rope and a metal grinder. The monument has been targeted by demonstrators in the past, having been vandalised numerous times and toppled twice.
Protests were organised by the Greek Communist Party following Saturday's airstrikes, and Monday marked the group's third protest.
Two protesters were detained and at least three people were injured.