'Every single decision I've made in my 22 years is for the good and the sake of Arsenal': Wenger
Comments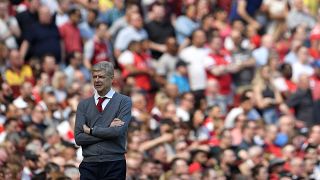 "Every single decision I've made in my 22 years is for the good and the sake of Arsenal. Even when it was the wrong decision, my one priority was to do well for the club," said Arsenal coach Arsene Wenger at the first press conference since announcing he would be leaving the club at the end of the season.
The Frenchman announced last Friday he would be stepping down after 22 years as Arsenal's coach.
The press conference came after Arsenal beat West Ham 4-1 on Sunday.
Some fans have called out Wenger as the team looks like it will not make the Premier League top-four spot for a second consecutive season.
Wenger said that this lack of unity was "hurtful" to the club.
"The image we gave from our club is not what it is and not what I like," said Wenger.
"The fans did not give me the image of unity I want all over the world and that was hurtful because I think the club is respected".
But despite the fans' resentment, former players tweeted out their respect for the French coach.