Former US presidents attend Barbara Bush's funeral in Texas
Comments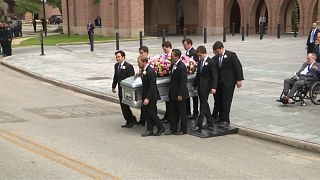 Four former US presidents were in attendance at Barbara Bush's funeral in Texas on Saturday. Her husband and son, the 41st and 43rd presidents of the United States were joined by Barack Obama and Bill Clinton while first Lady Melania Trump represented the current administration at St Martin's episcopal church in Houston.
Former Texas Governor and Presidential candidate Jeb Bush delivered his mother's eulogy.
President Donald Trump who has had rocky relationship with the Bushes did not attend with the White House stating he did not want the extra security to disrupt the ceremony.
Former First Lady Michelle Obama and former Secretary of State Hillary Clinton were also present to pay their respects to the former first lady who passed away on Tuesday aged 92.