Barbara Bush declines further treatment amid 'failing health'
Comments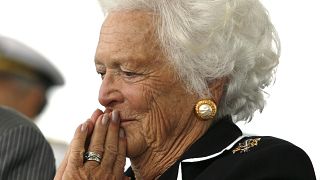 Barbara Bush, the wife of former US President George HW Bush, is in 'failing heath' and has declined further medical treatment.
Instead, Mrs Bush who is 92, will spend her time in what has been described as "comfort care" with her family.
It has been reported that she is suffering from chronic pulmonary disease and congestive heart failure although this has not been confirmed.
As first lady from 1989 until the start of 1993, she was a popular figure known for her sometimes blunt talk and self-depricating wit.
During her time in the White House she played an active role in championing the cause of adult literacy among others.
Her husband, at 93, is the longest-lived US president. He's the nation's 41st leader and has also suffered health issues, spending a period in intensive care for pneumonia last year.
The couple have been married for 73 years.