Former US first lady Barbara Bush dies at 92
Comments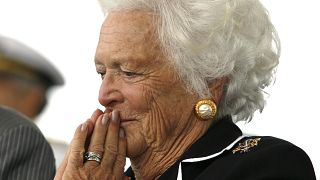 Barbara Bush, the wife of former US President George HW Bush and mother of George W Bush has died. She was aged 92.
Her family recently announced that she was in failing health and had decided not to seek further medical treatment.
Bush had reportedly been battling chronic pulmonary disease and congestive heart problems in recent years.
Her death has prompted an outpouring of support from presidents past and present, including her son W Bush.
The 43rd President of the United States, who served two terms until 2009, said: "Our family will miss her dearly.
"Barbara Bush was a fabulous First Lady and a woman unlike any other who brought levity, love, and literacy to millions. To us, she was so much more. Mom kept us on our toes and kept us laughing until the end."
Former Democrat president Bill Clinton, who suceeded HW Bush in 1993 and governed until 2001 when W Bush took office, said of Barbara: "She had grit & grace, brains & beauty. She was fierce & feisty in support of her family & friends, her country & her causes. 
"She showed us what an honest, vibrant, full life looks like. Hillary and I mourn her passing and bless her memory."
Fellow former Democrat president Barack Obama, who succeeded W Bush and served until Republican Donald Trump took office last year, thanked Bush for her support during his tenure in Washington.
In a joint statement with his wife Michelle, he said: "Barbara Bush was the rock of a family dedicated to public service.
"We'll always be grateful to Mrs. Bush for the generosity she showed to us our throughout our time in the White House."
President Trump added "she will be long remembered for her strong devotion to country and family, both of which she served unfailingly well" in a statement with his wife Melania.
As first lady from 1989 until the start of 1993, she was a popular figure known for her sometimes blunt talk and self-depricating wit.
During her time in the White House she played an active role in championing the cause of adult literacy among others.
Her husband, at 93, is the longest-lived US president. He's the nation's 41st leader and has also suffered health issues, spending a period in intensive care for pneumonia last year.
The couple had been married for 73 years.