Mass inspections ordered after Southwest explosion
Comments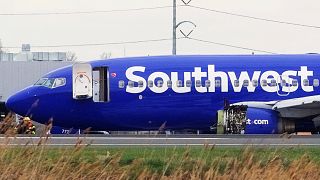 The US Federal Aviation Administration (FAA) has ordered a round of inspections to be carried out on jet engines after investigators said a broken fan blade triggered an engine explosion on a Southwest Airlines flight, shattering a window and killing a passenger.
National Transportation Safety Board Chairman Robert Sumwalt told reporters Tuesday that signs of metal fatigue were observed on the engine where the fan blade broke.
The FAA's inspection order, called an air-worthiness directive, would require an ultrasonic inspection within the next six months of fan blades on CFM56-7B engines that have accrued a certain number of take-offs.
Over 6,700 aircraft worldwide have been fitted with the model, according to its manufacturer CFM International, including Southwest flight 1380.
One of the engines on the Dallas-bound plane blew apart over Pennsylvania, 20 minutes after taking off from New York's LaGuardia Airport on Tuesday morning. 144 passengers and five crew were on board.
The explosion sent shrapnel ripping into the fuselage of the Boeing 737-700 and shattered a window.
Bank executive Jennifer Riordan, 43, was killed when she was partially pulled through a gaping hole next to her seat as the cabin suffered rapid decompression. Fellow passengers pulled her back inside and performed CPR but she later died of her injuries in hospital.
Philadelphia's medical examiner ruled blunt trauma to the head, neck and torso caused her death, and deemed it an accident, spokesman Jim Garrow said.
It incident marked the second time a CFM56-7B engine had failed on a Southwest jet in the past two years, prompting airlines around the world to step up inspections.