Woman dies after being 'sucked out' of US passenger plane as engine blows
Comments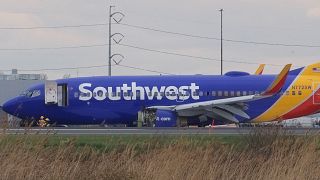 At least one person has died after the engine of a passenger plane exploded in mid-flight in the United States.
Southwest Airlines Flight 1380 was en route from New York to Dallas with 149 people on board when it was forced to make an emergency landing in Philadelphia.
Passengers described how the engine on the aircraft's left-hand side blew, throwing off shrapnel which shattered a window and caused the cabin to depressurise, almost sucking out a female passenger.
Eric Zilbert, who was on the flight, told New Zealand news website Stuff: "From her waist above, she was outside of the plane."
The woman was pulled back in by other passengers.
Another witness said objects flew out of the hole where the window had exploded.
The passenger who died has been identified as Jennifer Riordan, a married mother of two and Wells Fargo employee from New Mexico.
Her death is said to be the first fatality in a US commercial aviation accident since 2009, and the first accidental in-flight fatality in Southwest Airlines' 51-year history. But the carrier suffered a tragedy in 2006, when one of its jets skidded off a snowy runway and collided with a car on a Chicago road, killing a six-year-old boy.
"This is a very sad day, and on behalf of the entire Southwest family I want to extend deepest sympathies for the family and loved ones of the deceased customer," CEO Gary Kelly told reporters Tuesday.
Passengers hailed the poise of the plane's pilot Tammie Jo Shults, 56, who managed to land the Boeing 737-700 at Philadelphia Airport after a rapid but controlled descent.
"The pilot Tammy Jo was so amazing! She landed us safely in Philly," said Amanda Bourman on Instagram.
Shults kept her cool as the incident unfolded, telling a controller: "So we have a part of the aircraft missing so we're going to need to slow down a bit."
Her calm may have been drawn from her military experience: She was one of the first female fighter pilots to fly F-18s in the US navy.
Officials say a window, the jet's wings, fuselage and one of its engines were all damaged. Seven other people also received medical treatment.
It's still unclear what caused the Boeing 737-700's engine to ignite, but National Transportation Safety Board (NTSB) investigators say a fan blade which snapped off from the engine's hub showed crack lines consistent with metal fatigue.
A full investigation is expected to take 12-15 months, NTSB said.
The plane's engines were reportedly made by CFM International, a French-US venture. They said in a statement: "The members of the CFM Team worldwide wish to express their deepest condolences to the family of the victim of this incident.
"CFM will support the NTSB and Southwest Airlines in determining the cause of the accident and CFM and its parent companies, GE and Safran, will make every resource necessary available to ensure support."