Southwest flight's terror in the skies: How it happened
Comments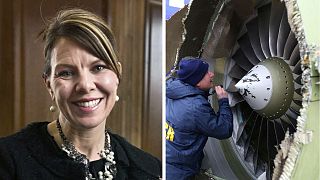 Copyright

Associated Press/Reuters
When Jennifer Riordan boarded Southwest Airlines Flight 1380 at New York's LaGuardia Airport on Tuesday morning, she was looking forward to getting home to her husband Michael and her two daughters in Albuquerque, New Mexico. But 20 minutes into the flight, which was destined for Dallas, terror ensued.
"There was blood on the windows...her arms were actually out of the airplane and her head was out of the airplane"

NBC Nightly News
While hurtling 32,000 feet over Philadelphia, one of the Boeing's twin engines exploded, releasing shrapnel that peppered the fuselage and shattered Riordan's window. The damage caused the plane's cabin, where 144 passengers were seated, to depressurise and the jet to became unstable.
"The plane dropped immediately," said Matt Tranchin, who was on the flight. "[The] plane smelled like smoke. Ash was all around us.
The flight crew prepared for an emergancy landing.
"As we landed, they kept repeating: 'Brace for landing! Brace for landing!'" Tranchin told NBC News.
The force propelled Riordan through the broken window.
"There was blood on the windows...her arms were actually out of the airplane and her head was out of the airplane," another passenger told NBC Nightly News.
People scrambled to pull the 43-year-old bank executive back inside to safety and administer CPR.
"It just wasn't going to be enough," said Peggy Phillips, an onboard nurse who tended to Riordan.
After the plane safely landed at Philadelphia International Airport, Riordan, who worked for finance firm Wells Fargo, was transported to hospital but died of her injuries. 
Philadelphia's medical examiner ruled blunt trauma to the head, neck and torso were what killed her, and deemed her death an accident.
Seven other passengers were also wounded in the incident.
'One of the most reliable and popular jet engines in airline history'
Until Tuesday, several billion passengers carried by 100 million flights operated by US airlines since 2009 had made their journey. Southwest Airlines had also maintained an excellent safety record. Not a single passenger had died onboard in the company's 51-year history before Riordan's death.
"This is a very sad day, and on behalf of the entire Southwest family I want to extend deepest sympathies for the family and loved ones of the deceased customer," said CEO Gary Kelly while addressing reporters at the carrier's headquarters in Dallas.
Franco-US venture CFM International, which manufactured the engines fitted to Flight 1380, also offered their "deepest condolences".
"CFM will support the NTSB (National Transportation Safety Board) and Southwest Airlines in determining the cause of the accident and CFM and its parent companies, GE (General Electric) and Safran, will make every resource necessary available to ensure support," they said in a statement.
The CFM56-7B — the engine fitted to the Boeing 737 along with over 6,700 other aircraft worldwide — is considered "one of the most reliable and popular jet engines in airline history", according to the supplier.
So what could have caused it to explode?
The NTSB, a federal agency tasked with investigating transport accidents, sent a team of experts to Philadelphia to examine the plane.
"Our specialist immediately focused on a missing fan blade," said NTSB Chairman Robert Sumwalt on Tuesday night, adding "metal fatigue" had been observed on the engine where the fan blade had snapped off.
"We are very concerned," he told reporters. "There needs to be proper inspection mechanisms in place to check for this before there's a catastrophic event."
A full investigation into the accident could take 12 to 15 months.
The NTSB's findings correspond with a warning issued by specialists from the European Aviation Safety Agency (EASA), who last month proposed that airlines examine CFM56 engines fitted to their Boeing 737 jets.
While EASA didn't specify what prompted the advisory, the details mirrored a minor incident involving a Southwest plane in August 2016, when a fan blade fractured mid-flight and released debris both into the engine and towards the body of the plane.
Blades recovered 20 months ago from Flight 3472 showed classic signs of fatigue cracking, an NTSB investigation found.
When asked about the similarities between what happened then and Flight 1380, Sumwalt refused to speculate.
"We want to look at this particular event and see what the factors are surrounding this and maybe they're related and maybe not," Sumwalt told aviation news website FlightGlobal. "We need to understand what's going on here."