Cinema opens in Saudi Arabia, ending decades-old ban
Comments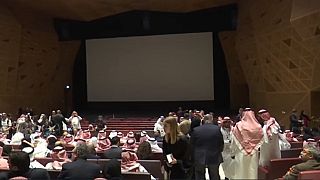 -
Copyright

Associated Press
"Good morning world from a country that, now, has movie theatres," Saudi Twitter user Deema Farsi posted on Thursday.
The night before, a special invitation-only screening of Black Panther put an end to a 35-year-old ban on commercial cinema in the deeply conservative Muslim Kingdom.
The AMC one-screen theatre in Riyadh will open its doors to cinemagoers on Friday.
"The return of cinema to Saudi Arabia marks an important moment in the Kingdom's modern-day history and cultural life, as well as in the development of the Kingdom's entertainment industry," the country minister of culture and information, Dr. Awwad Alawwad, said in a statement.
"Cinema has always played an important role in bringing cultures together and Saudi Arabia is ready to play its part. Through clear and transparent regulatory frameworks, we will ensure that both international and Saudi filmmakers have an opportunity to showcase their work across our country," Alawwad added.
The development is the latest in a series of reforms launched by Crown Prince Mohammed bin Salman as part of his Vision2030 plan to open up the country culturally and diversify the economy away from oil. Previous reforms included allowing women to drive, join the military and attend sports events.
Reactions on social media has been broadly positive.
But some in the conservative country have expressed disapproval at the latest development — cinema is considered to be un-Islamic by conservative Muslims.
This weekend, Saudi cinemagoers will be able to watch Black Panther — although some reports indicate the movie was censored to cut the scene of a kiss at the end — and the ministry has already announced that "a number of upcoming blockbusters that are currently in the process of being classified."
Saudi Arabia appears committed to becoming a big player in the cinema industry. The kingdom plans to open 350 cinemas and 2,500 screens by 2030, generating approximately $1 billion (€810 million) in box office spend each year and turn the 32-million-strong country into the 11th market in the world.
Vox Cinemas, the largest cinema operator in the Middle East and North African region, announced on Thursday that it will soon open a four-screen multiplex theatre in Riyadh after being granted a licence by authorities. The group, owned by Dubai's Majid Al Futtaim also revealed that it will invest 2 billion riyals (€ 431 million) over the next five years to open a further 600 screens across the country.
Saudi Arabia will also for the first time, debut a pavilion at the upcoming Cannes Film Festival.
A statement from the country's General Culture Authorities said the space will "offer several opportunities for delegates to interact with Saudi filmmakers, participate in roundtable discussions with Saudi industry representatives and to understand the kingdom's industry ambitions through its various initiatives and programs."
A selection of nine short films by Saudi Arabia's young filmmakers will also screen at the festival Short Film Corner.