Saudi women enjoy themselves at football match in Riyadh
Comments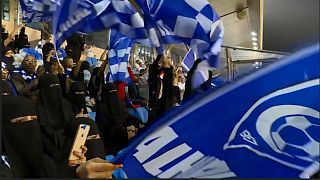 Copyright

Associated Press
Women filed into a football stadium in Riyadh to watch a match in the family seating area, marking a significant moment for the Kingdom. 
This is an example of how Saudi Arabia has begun easing restrictions for women. 
"It means that I am human," High School teacher Nora told Sky News at a Riyadh derby game.
"No other one prevents me from doing what I want. No other one decides what I want. I am the one who decides," said Nora, surrounded by women waving flags and cheering. 
"I am really happy because there is no difference, in my opinion, there is no difference between men and women, so I think it is a good thing," said an anonymous football supporter.  
Women were only allowed into stadiums in January as part of reforms spearheaded by the kingdom's crown prince.
The Kingdom also announced that beginning in June, women will be allowed to drive, lifting the world's only ban on female drivers.