German theatre offers free seats to spectators wearing swastikas
Comments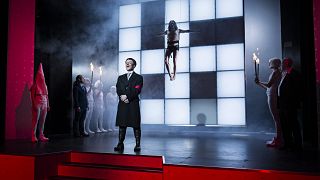 German prosecutors said Wednesday that they would not investigate a theatre offering free tickets to people who wear a swastika during a play named after Adolf Hitler's Mein Kampf, because of artistic freedom laws.
A spokesman for the prosecutor's office in the southern city of Konstanz, or Constance, initially said authorities would launch an investigation after receiving multiple complaints. Under German law, publicly displaying the Nazi symbol is illegal.
The prosecutor's office later dropped the investigation citing artistic freedom laws.
The Mein Kampf play — a dark comedy named after the book Adolf Hitler wrote in prison before becoming German Chancellor — will open on Hitler's birthday, April 20.
Written by the late Hungarian playwright George Tabori, Mein Kampf tells the story of a young Adolf Hitler in pre-WWI Vienna. Penniless and hoping to get into the Academy of Fine Arts, Hitler stays at a boarding house for poor men where he meets an old Jewish man who fans his political aspirations.
The theatre in Constance is offering free admission to spectators willing to wear an armband with a Nazi swastika given to them upon arrival. Spectators who choose to pay will be asked to wear a Star of David "as a sign of solidarity with the victims of the National Socialist (Nazi) barbarism," the theatre wrote on its website.
"This artistic impulse seeks to show how easily people are corrupted and can be made to wear the symbol of millionfold suffering, just to save a few euros," Daniel Grünauer, the theatre's deputy dramatic advisor, said in a statement.
"The concept ties in with the performance itself which is highly controversial and repeatedly links Tabori's material with our current time of rising nationalism, populism and xenophobia all over Europe."
"In the wake of the refugee crisis, right-wing crime has soared over the past years in Germany and we experience also rising antisemitism. Our performance wants to show people that it is up to them to decide on which side to stand - concretely, always and not just with warm words," Grünauer added.
In an open letter, the German Israeli association branded the move as "tasteless."
"We are of the opinion that this bizarre stunt by Constance's theater is unacceptable," it added.