Violent clashes break out with 300 protestors and police near Nantes
Comments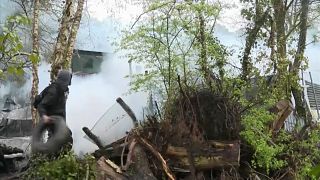 Violent clashes have erupted again on farmland near Nantes between around 300 demonstrators and police.
Tear gas and grenades were used.
The gendarmes were stopping those who wanted to rebuild a camp which was destroyed by 2,500 police this week.
The temporary home at Notre Dame des Landes was built ten years ago to stop plans for a new airport.
Sunday's clashes started before a large peaceful rally in support of the evicted residents.
Thirty huts and farm buildings were pulled down on Monday (April 9).
Since the plans for an airport have been abandoned, the environmentalists want to rebuild the squat to use the land for agricultural purposes.
The State called on the occupants to declare the name of their project and the plots concerned by next week (April 23).