Delays in deactivating an old WWII bomb in a garden in Germany
Comments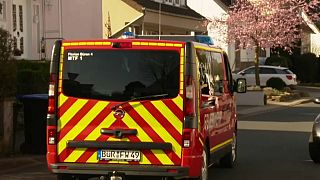 After the discovery of a British aerial bomb in Paderborn in Western Germany, the start of the bomb deactivation has been delayed.
According to the police, there were still people in the cordoned off area.
It is the largest evacuation operation in the post-war history in that region of Germany.
More than 26,000 people had been ordered to leave their homes and two hospitals had to be evacuated.
The huge bomb was discovered a week and a half ago during construction work in a garden, less than a meter below ground.
It's filled with 1.5 tons of explosives and has enormous destructive potential.