Trump condemns suspected chemical attack in Syria
Comments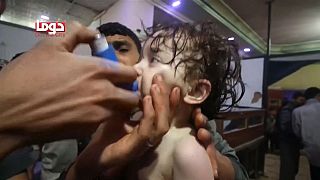 U.S President Donald Trump condemned Syria, Russia, and Iran over a chemical attack in Syria.
Trump tweeted on Sunday that Syrian President Bashar al-Assad will have a "big price to pay" for presumably launching a chemical attack on civilians and called out Russia and Iran for supporting "animal Assad."
At least 70 people have died in a suspected gas attack on a rebel-held town in eastern Ghouta according to rescue services and medics. The reports cannot be independently verified and the Syrian government has denied the use of chemical weapons.
The U.S. State Department says reports of mass casualties from an alleged chemical weapons attack in Douma were "horrifying" and would, if confirmed, "demand an immediate response by the international community".
The Russian Foreign Ministry reacted to the reports that Assad's forces were behind the chemical attack with a strongly worded statement denying the Syrian government's responsibility saying it was a "bogus story" and denouncing what it called "yet another fabricated piece of information".
Volunteer rescue force the White Helmets shared graphic videos on social media showing people washing themselves after the attack. It says the number dead is likely to rise.
Pope Francis also referenced the attack at mass at Sunday mass in front of thousands of people at St Peter's square in Rome where he urged world leaders to put peace over conflict:
"There is no good or bad war, and nothing can justify such instruments that exterminate defenceless people and populations. Let's pray that the responsible politicians and military leaders choose another path: that of negotiation, the only one that can bring peace instead of death and destruction" he said.