Bio bounces back from 2012 defeat to take Sierra Leone presidency
Comments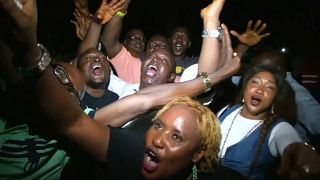 Opposition leader Julius Maada Bio has been sworn in as Sierra Leone's new president after a tight run-off vote. Once, in 1996 the former soldier ruled the country briefly as a military dictator.
"We have only one country, Sierra Leone, and we are all one people," said Bio to sustained cheers.
A major election promise has been to begin free primary and secondary school education for all.
However the beaten former ruling party's candidate Samura Kamara, a former finance minister, alleged massive fraud and called for a recount. That was falling on deaf ears for the victor's supporters.
"This is great, bigger than any other thing. This nation has come out of slavery. We have been bonded for the past 10 years. No job, no better education for our children, even for the young adults, nothing has been happening since the war," said one Bio voter.
But Bio will find himself on the horns of a dilemma as whatever his hopes, Sierra Leone remains one of the world's poorest nations struggling to revive its economy after war and disease.