Russian postal drone spectacularly crashes on inaugural flight
Comments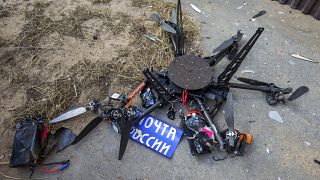 A Russian postal drone's maiden voyage ended rather sooner than its creators anticipated when it smashed into a wall, crumbling to pieces after just seconds in the air.
Bearing the Russian Post's blue and white logo, the machine lifted off from the Siberian city of Ulan-Ude and was intended to fly to a neighbouring village during the test flight.
The Russian-made drone was set to offer a new way of delivering mail in the sparsely populated Buryatia region, 4,400 km east of Moscow.
The postal service announced plans in 2016 to start using drones for parcel deliveries across the vast country.
It was quick to distance itself from the crash, saying they were just in attendance at the event as guests.
Creators Rudron/Expeditor 3M organised the testing, according to Russian Post.
No one was injured in the incident.