French rail commuters brace for three-month strike
Comments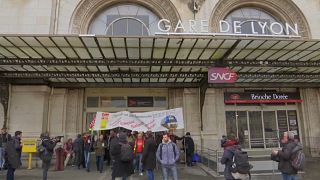 French commuters are braced for chaos as a series of rolling nationwide rail strikes get under way that nearly half of unionised staff say they will join.
The rail strike is due to run for three months in successive waves of two days. It is widely seen as the biggest test yet of President Emmanuel Macron's ability to push through wide-ranging labour and economic reforms.
Under proposed changes, the rail network will be open to competition. The state-owned railway will become a public limited company and there will be a new status for future employees.
Currently, rail workers have a job for life: they can retire as early as 52-years-old and enjoy free train travel.
Over the past two decades, the European Union has been on a drive to create a single EU railway that not only makes it easier to cross borders, but also seeks to ensure competition on lines by ending the monopolies of state-controlled train operators.
French Transport Minister Elizabeth Borne has promised a gradual opening of the rail network to competition from 2020 and has offered assurances that existing rail workers would have to make few sacrifices.
All of this is little comfort to French rail travellers who face weeks of misery and traffic disruptions.
SNCF said it expects only one in eight of its high-speed trains to run on the first day of the strike on Tuesday.