UK prime minister on tour of Brexit-divided Britain
Comments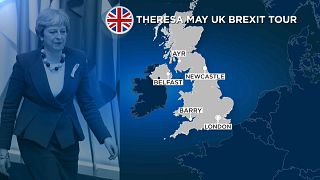 British Prime Minister Theresa May has promised a bright future for the UK as she tours the country 12 months to the day before Britain leaves the European Union.
In the 21 months since the Brexit referendum, May, has struggled to unite the British people behind a single vision. But she believes leaving the EU will re-unite the country.
"Brexit provides us with opportunities," she says. "I want to see us coming together, the four nations across the United Kingdom. We have a very strong Union, that is in our interest and it is in our interest to come together and really seize these opportunities for the future."
The tour kicked-off in Scotland and continues on to Newcastle, Belfast in Northern Ireland, Barry in Wales and finishes up over one thousand kilometres later in London.
May says she's confident she can negotiate a good deal for Britian.
"We will be leaving the European Union on the 29th of March 2019, but, what businesses and people have said to us is that they didn't want to face a sudden cliff edge at that point, that is why it is so important that we've got the agreement from the rest of the European Union to what's called this implementation period until December 2020," she says. "That gives people certainty, it gives businesses certainty, it gives farmers certainty."
May has 12 months to plot a successful course through difficult political and economic terrain.
The task has so far swamped her government and Brexiteers fear the EU divorce is taking too long and could be reversed.