How some Belgians feel about Brexit
Comments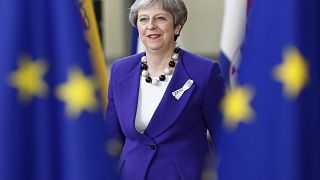 -
Britain's decision to leave the European Union appears to be as controversial among Belgian residents as it is among the Brits.
The UK will officially exit the EU on 29 March 2019.
Euronews asked residents in the European Parliament district of Brussels their thoughts on the historic move.
Voice of the people:
"People have voted and they should take their responsibiliy, for good choice or bad choice, but it was a democratic, civil, correct decision. So now let's make it real."
"Yes, yes. Certainly it (Brexit) will happen, and it's a shame for the British because they are going to lose lots of stuff, mainly the protection the European Commission can give against things like Facebook as we see right now, and also the integration, I think it's going to be very bad for the UK. Actually part of my family is British, and they are already suffering a lot about it."
"I hope there will be a special relationship between Britain and the EU after the Brexit negotiations are ended and it formally leaves the EU."
"In my opinion, everything is possible. We will see. I think the British haven't finished surprising us."