Funerals underway for victims of Siberian shopping mall fire
Comments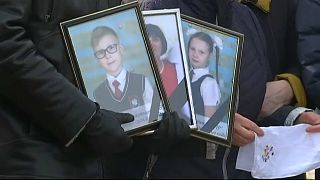 Funerals have begun in Russia for the 64 people, mostly children, who died in a fire at a Siberian shopping mall.
One mother buried two school-age children and their grandmother who had gone to the leisure complex to watch a film together.
The incident has roused public anger over official corruption.
One Moscow resident was adament those responsible for the tragedy must be found so it can never happen again.
Investigators have not confirmed the cause of the fire, but the main theory is that an electrical short circuit was behind the blaze
Investigators have also detained and charged five people over the fire, including the mall's manager who is accused of violating fire safety regulations and a security guard who they accuse of turning off the public address system.
Russia has rigorous fire safety rules but they are undermined by endemic corruption which affects many aspects of life in the country.