Widespread support for UK as around 100 Russian diplomats are expelled
Comments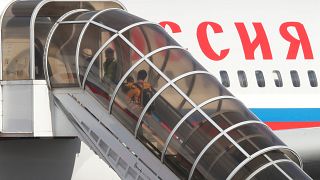 Over twenty countries have expelled a total of around a hundred Russian diplomats over the nerve agent attack in Britain blamed on Moscow. It's believed to be the largest number of expulsions of its kind in history.
The largest number of expulsions came from U.S. President Donald Trump who on Monday who ordered 60 Russian diplomats to leave, including 12 from the UN mission in the New York, as well as the closure of the Russian Consulate-General in Seattle.
Support for the UK came from all over Europe including Ukraine, where 13 Russians were ordered to leave, Germany, where four were expelled, and France, where a further four were asked to leave.
"I think we're headed towards a Cold War relationship, towards back to the time of the Cuban missile crisis if you would, where there's going to be totally adversarial relationships," said Bruce Fein, a constitutional lawyer. "I don't see at present, any places on the globe, including Syria, including Iran, where the United States and Russia are going go be aligned with one another."
Russian ex-spy Sergei Skripal and his daugher were poisoned on March 4 in the English town of Shrewsbury. Investigators believe a powerful nerve agent was used. They remain critically ill but stable in hospital.
Russia is said to be considering a number of retaliatory measures to the widespread expulsions.