Protest in Siberian city of Kemerovo after shopping centre fire
Comments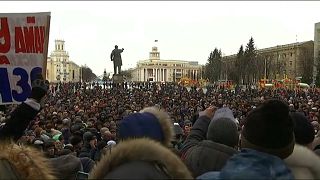 Hundreds of people protested against Russian officials in the Siberian city of Kemerova after the fire on Sunday that killed 64 people. Over 40 of the victims were children.
Investigators have revealed that the fire alarms were switched off and that some exits were blocked.
Sergei Agarkov lost two children in the blaze.
"They (officials) wrote that they lead out 200 people (from the burning building). Who are those 200? They are those 200 who came out themselves, and others were suffocating on the third and fourth floors, and that's it."
Many people, including Kemerovo resident Svetlana Shestakova, are blaming the authorities for the deaths.
"A lot of children died. They died because of irresponsibility of management. I was passing by at 16.20 (on Sunday, March 25) when everything was just starting to burn. And I could not imagine that the scale (of the tragedy) would be that big. And most of all I am shocked that they are hiding the truth from us."
The exact cause of the blaze has not yet been established. The government has announced that March 28 will be a day of national mourning.