Corbyn accused of failing to crack down on anti-semitism in Labour Party
Comments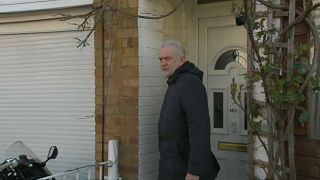 The leader of the British opposition Labour Party, Jeremy Corbyn, is accused of failing to tackle anti-semitism within the party.
Corbyn recently apologised for apparently showing support for the creator of an antisemitic mural in London's East End six years ago.
But Britain's Jewish Community isn't satisfied.
"The Jewish community is saying enough is enough with the anti-Semitism swirling around the Labour party that is being fostered by Jeremy Corbyn's inaction," said Jonathan Arkush, President of Britain's Jewish Community.
Since unexpectedly becoming Labour leader in 2015 after decades spent on the left-wing fringes of the party, Corbyn has repeatedly faced accusations of turning a blind eye to anti-Semitic comments in the party and among groups he supports.
 Several Labour members have voiced support for the Jewish community exposing internal divisions within Labour which were papered over after Corbyn led the party to an unexpected victory in a general election last June.