Candidates cast vote in Egypt's presidential election
Comments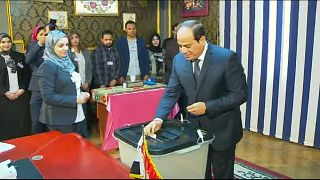 Egypt's incumbent president Abdel Fattah al-Sisi, has cast his vote in an election which is widely expected to return him to power.
Polls will be open for three days and Sisi has urged Egyptians to go and vote hinting he sees the election as a referendum on his four-year rule.
Early on Monday, dozens of people queued up to vote in and around Cairo, but not in great numbers.
Sisi's sole challenger is Moussa Mostafa Moussa, a longtime Sisi supporter widely dismissed as a dummy candidate.
Moussa's Ghad party had actually endorsed Sisi for a second term before he emerged as a last-minute challenger.
Many Egyptians see Sisi as vital to stability in a country where unrest since 2011 has hurt the economy.
Critics say he has presided over Egypt's worst ever crackdown on dissent and have dubbed the vote a charade.
Neither candidate has done much campaigning, appealing instead for a high turnout. Sisi won nearly 97 percent of the vote in 2014, but less than half of eligible Egyptians voted