Turkey takes control of Afrin in Syria
Comments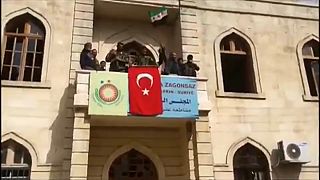 The north western Syrian city of Afrin is now in control of the Turkish and Free Syrian Army forces after Kurdish YPG forces pulled out almost two months to the day since Turkey launched a military operation to take the town and its surrounding province.
Turkish-backed Syrian rebel fighters say they entered before dawn on Sunday from three fronts, meeting no resistance.
Turkey now says it will extend the offensive to other Kurdish regions where U.S. forces are stationed alongside the YPG, an ally against so called ISIL.
Turkish President Recep Tayyip Erdogan says, "Whatever we have done in Jarablus, Al-Bab and Azez before, we will now do the same in Afrin and its settlements. 140,000 people returned their home to Jarablus and now our sisters and brothers from Afrin will return to Afrin."
There was no immediate comment from the Kurdish forces.
Turkey's armed forces say in a statement, troops were combing the streets for mines and improvised explosive devices.
Despite an exodus of more than 150,000 people in recent days, thousands of civilians still remain in Afrin.