Ghouta exodus continues as Syrian army strengthens grip on city
Comments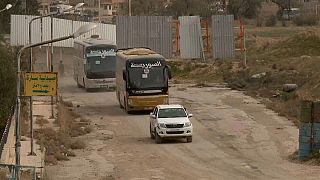 The exodus from Ghouta continues in earnest for the second successive day as the Syrian army tightens its control of the city.
The departure of opposition fighters from the powerful Ahrar al-Sham group could become an example for rebels in other towns, bringing President Bashar Assad's government closer to recapturing the entire territory after years of siege and relentless bombardment.
Among them are hundreds of civilians who've headed for safety in nearby Damascus. Others are headed for opposition controlled Idlib in northern Syria as part of the surrender deal with Assad.
It means only Douma is left of the opposition's eastern Ghouta enclave.
A month ago the United Nations said it was home to 400,000 people and constituted the rebels' main stronghold near Damascus.
According to the Syrian Observatory for Human Rights, the army offensive to capture it has left more than 1,600 people dead.