Assad visits troops in Ghouta as civilians flee
Comments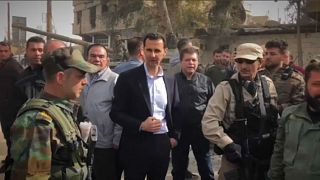 Syrian President Bashar al-Assad was in Eastern Ghouta on Sunday, visiting regime forces as they increase their foothold in the previously rebel-held area.
"Every tank driver who advances one meter forward has changed the political map of the world,"

Syrian President
Assad told the cheering trooops they were "fighting in the whole world's battle" against terrorists.
He had driven to the region in his car, giving an interview en-route, saying that if he could end the situation without fighting, he would prefer to do so.
Pro-government victory
In a month-long assault, Russia-backed pro-government forces have retaken much of Eastern Ghouta, the last major insurgent stronghold near Damascus.
Failaq al-Rahman, the main rebel group in the area, said it was negotiating with the UN about a ceasefire, aid and evacuating injured people.
The United Nations resident coordinator in Syria, Ali al-Za'tari, told Reuters that some 25,000 civilians had fled Ghouta in the last week.
Most have left through a Syrian army corridor near Hammouriyeh.
Troops have splintered Ghouta into three besieged zones in one of the bloodiest offensives of the seven-year war.