West Bank teen, Ahed Tamimi, gets eight months in prison
Comments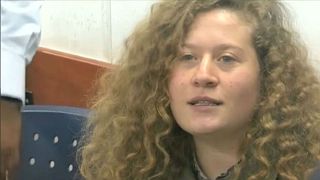 Palestinian teenager Ahed Tamimi has been sentenced to eight months in prison for slapping and kicking Israeli soldiers in the West Bank.
The sentence was part of a plea deal that allowed her to avoid more serious charges that could have put her behind bars for years.
Tamimi's prosecution drew widespread criticism in Israel and abroad.
Gabi Lasky, Ahed Tamimi's lawyer, said:
"The military prosecution wanted to keep Ahed in detention for several years because this case is a case of deterral (sic). They are trying to deter other Palestinian youth from resisting occupation as Ahed did."
Length of sentence
Onlookers around the world have been quick to compare her eight-month sentence to the relative leniency granted to Israeli soldiers by the courts in the country.
Seventeen-year-old Ahed has become an icon of Palestinian protest. But many in Israel see her as a publicity-seeking troublemaker.
She was arrested in December during a nightime raid and charged with 12 counts, including assault, incitement and interference with soldiers.