The Euronews interview that is key to the investigation into Nicolas Sarkozy
Comments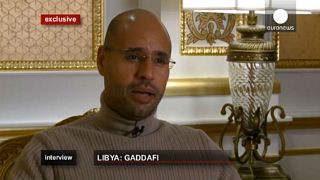 The questions over the financing of former French president Nicolas Sarkozy began with a Euronews interview in 2011.
As France prepared to launch airstrikes against the Gaddafi regime in Libya, Euronews spoke to the son of President Muammar Gaddafi, Saif.
What Saif said would send shockwaves through French politics that, seven years on, threaten to engulf the former president;
"Firstly Sarkozy must repay Libya the money he took for his election campaign. We financed his election campaign and we have all the details and we are ready to publish them. The first thing we ask of this clown Sarkozy is that he repay this money to the Libyan people. We helped him become president so that he would help the Libyan people but he has disappointed us."
Now Sarkozy himself is using the interview in his defence, claiming that the timing of the filming undermines the timeline provided to investigators by one of his main accusers, Franco-Libyan businessman Ziad Takieddine.
See the full interview recorded on March 15, 2011 below.