I have never betrayed the French, says Sarkozy amid Libya funding probe
Comments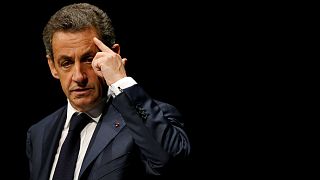 Former French President Nicolas Sarkozy has vowed to clear his name over claims he received campaign funding from late Libyan leader Muammar Gaddafi.
Sarkozy, appearing on a prime time television show on Thursday (March 22) evening, said he had never betrayed the trust of the French people.
The 63-year-old, who held power from 2007 to 2012, has been placed under formal investigation by French authorities.
It is alleged that Gaddafi provided Sarkozy's 2007 election campaign with millions of euros shipped to Paris in suitcases.
Sarkozy denies the allegations.
The US, UK and France attacked Gaddafi's forces in Libya in March 2011, with Britain saying action was necessary to avoid him attacking his own people.
In the same month Colonel Gaddafi's son, Saif al-Islam Gaddafi, gave Euronews an exclusive interview, in which he alleged Sarkozy owed his election to Libyan funding.
Sarkozy, appearing on TF1 on Thursday, claimed the timing of the interview was proof that Ziad Takieddine, a businessman who claims to have delivered suitcases of cash to Sarkozy, was lying.
He said: "I must tell the truth to the French: I have never betrayed their confidence.
"It's France and the function of its president at stake and my honour will triumph."
Sarkozy added his political career was over but that France will never be finished.