Borussia Dortmund players testify in bus attack trial
Comments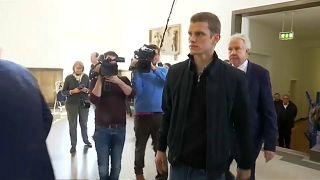 Former and current Borussia Dortmund players testified on Monday in the trial surrounding the attack on the team's bus last year.
Defender Marc Bartra and a police officer were hurt in the April 11 attack.
The accused, identified as Sergei W, is charged with detonating three devices as the team made their way to their Champions League quarter-final game against Monaco.
He admitted carrying out the attack as part of a money-making scheme.
Prosecutors allege he bought 44,000 euros ($52,700) worth of options which he intended to sell at a profit when the price dropped.
He has been charged with 28 counts of attempted murder and could face life imprisonment if convicted.