Australian wildfires cause extensive damage
Comments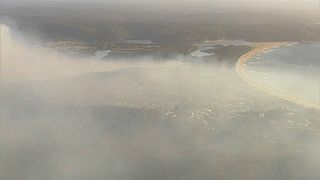 Australian authorities urged people to remain alert as wildfires that have destroyed dozens of homes, killed cattle and forced hundreds of residents to flee continued to burn out of control in the southeast of the country.
No deaths or serious injuries were reported as of Monday morning, but the bushfires have caused extensive damage in rural areas of Victoria and New South Wales. At least 75 homes had been destroyed, authorities said.
The fires, believed to have been sparked by lightning on Saturday, were fanned by dry, hot winds as temperatures reached41 C throughout Sunday.
Emergency officials said conditions should ease on Monday but 'watch and act' warnings remained in place for five locations.
At least 70 homes and a school were destroyed in the small coastal town of Tathra in New South Wales, authorities said, where people fled to the beach to avoid the flames and flying embers carried the fire front forward quickly.
About 700 residents were evacuated to centres set up at the nearby town of Bega and several schools in affected areas were closed on Monday.
About 280 firefighters were battling the blazes while 22,000 homes were without power in the region after the high winds brought down trees, Emergency Management Commissioner Craig Lapsley said late on Sunday.