Hundreds flee Australian bush fires
Comments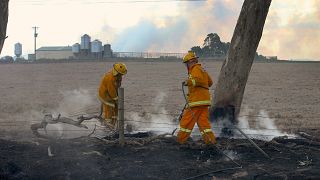 Dozens of homes have been destroyed and hundreds forced to flee as bush fires have swept across south east australia
The fires are believed to have been sparked by lightning and are raging across the State of Victora and New South Wales,
"There was no time to get water down it was instantaneous," said one eyewitness.
At one point, up to 40 towns were under threat as strong winds hampered containment efforts, local media reported.
Fires are continuing to burn across farmland in Victoria' s southwestern region.
No death nor major injuries have been reported.
In the northern city of Darwin, about 25,000 homes were also without power after a tropical cyclone felled trees. No deaths were reported.
Some roads in Victoria were closed on Sunday with residents told to stay in their homes as it was too dangerous to risk being caught by the flames in the open or to navigate the roads in the thick smoke.
The winds were expected to ease on Sunday evening, Bureau of Meteorology Victoria senior forecaster Peter Newham told Reuters.
The bureau issued fire weather warnings for Victoria, the Australian Capital Territory and the eastern state of New South Wales which sweltered in temperatures of up to 41 C (105.8 F) on Sunday.
Bushfires are a common and deadly threat in Australia's hot, dry summers, fuelled by highly flammable eucalyptus.
In January, hundreds of holidaymakers had to be rescued in a boat evacuation from the beaches of the Royal National Park south of Sydney, when they became trapped by bushfires.
The 2009 Black Saturday bushfires in Victoria killed 173 people and injured more than 400.