Thousands flee last rebel enclave near Syrian capital Damascus
Comments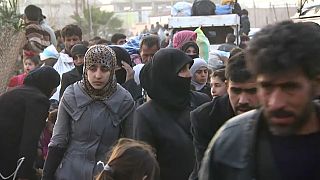 Syrian and Russian airstrikes killed dozens of people in eastern Ghouta on Friday and around two thousand more civilians fled what is the last rebel enclave near the capital Damascus.
It was one of the largest numbers of people to flee in one day since the government launched its Russian-backed offensive a month ago.
The United Nations believes up to 400,000 people have been trapped in the region's towns and farmland, almost all of them short of food and medicine.
The Syrian Observatory for Human Rights said air strikes in eastern Ghouta killed 80 people, including 14 children, in the towns of Kafr Baytna, Saqba and Harasta on Friday.
Aabout 70 percent of the rebel territory has now been recaptured by the government the UN estimates.
Backed by Russia and Iran, government forces have thrust deep into the rebel territory, splintering it into three separate zones.
One rebel faction said later on Friday it was rejecting terms of surrender put forward by the Russians.